Frequently Asked Questions
Rockey4 USB key/dongle is plugged in but I am getting a message asking me to register Roof Wizard.
---
IMPORTANT NOTE
AppliCad Roof Wizard now runs on a web-server license model for accuracy, security and convenience of our users. To access this you must upgrade to the latest version. Go to www.applicad.com/online_store.asp for more details.
All users must note that AppliCad no longer supports the USB or parallel port software security keys. This is due largely because these devices are no longer supported by the respective manufacturers.
The information below is for guidance only and has no status at all with AppliCad or the respective hardware manufacturers. Taking and using any of this advice is entirely at your own risk.
__________________________________________________________________________________________
Any error with a USB key is usually related to the correct Windows device driver not being installed on the computer for the Rockey4 device. We have become aware that some recent MS Windows updates trashes the driver and it needs to be re-installed. If you are not very confident with navigating around your Windows operating system, we recommend that you get your IT guru to help you with this.
First check to see if the green LED light on the Rockey4USB key/dongle is a steady or flashing. If it is flashing then it is not working correctly. Unplug the dongle and plug it into a different USB slot. This often has the effect of the USB port finding the correct driver. If the green LED stops flashing, then you're good to go. If it is still flashing, then we must delete the old driver and re-install one that works.
We are going to install this driver -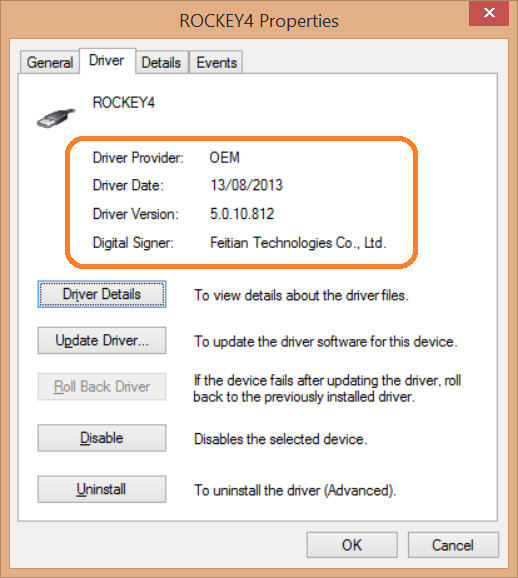 Windows may also try to install a different driver version. They don't work, so don't let Windows look for updated drivers.
___________________________________________________________________________________________________
DETAILED STEPS
Follow these steps carefully - don't skip any. Particularly the step to remove the old driver and rebooting your PC to make sure that the old version is completely removed.
Unplug the Rockey4USB from your computer.
Now we must completely remove any old/new drivers for the Rockey4 USB key. Open up Control Panel, then Device Manager, and expand the list for Universal Serial Bus (USB) Controllers. If anything is installed there for Rocky4, right click on it, and select uninstall.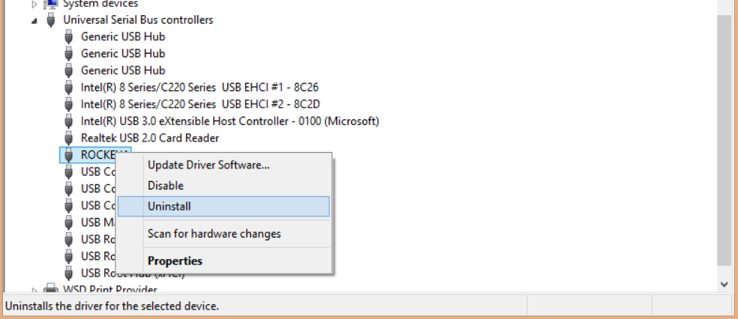 A check box is offered to [Delete the driver software for this device] - check it. We want to get rid of all old drivers.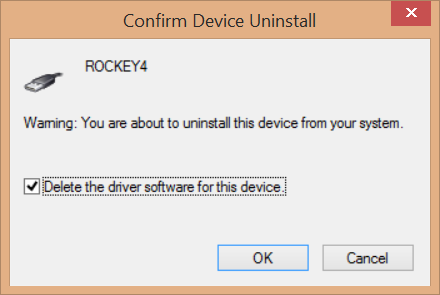 Now restart your PC. This will ensure that we have completely stripped out any old Rockey4 drivers.
Next we check what type of Windows you're running - 32 bit or 64 bit.
Right click on C drive and select [Properties]. The example below is 32-bit...
Now download the driver that we know works from this link - http://www.applicad.com/downloads/R4USB_2013.zip
Once downloaded, open your Downloads folder;
expand the ZIP file R4USB_2013.zip;
select the exe for your version of Windows (32 bit or 64 bit).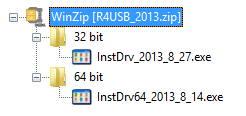 Run the xx.exe file to install the Rockey4 USB key driver on your computer.
Reboot the PC. Plug your key back in and the green LED will flash a few times and then should turn a steady green. Open the Roof Wizard software again and it should work as it supposed to.
The correct operation of the Rockey key is indicated in the Roof Wizard prompt area at start up: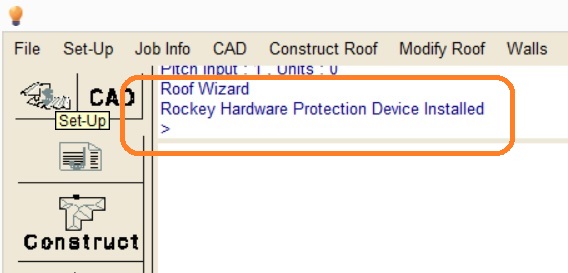 You may also confirm that the key is working by going to the pulldown menu, Help > Software and the dialog will display the message -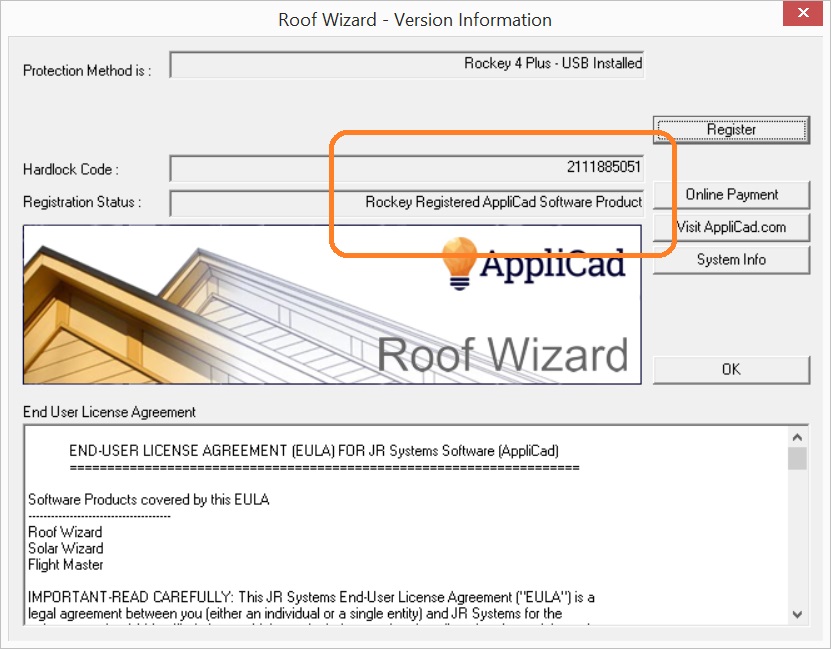 This indicates that the key is working just fine and also tells you the unique security code for that key.
_____________________________________________________________________________________________
STILL NOT WORKING?
If the light was already a steady green or is a steady green now and the Roof Wizard software is still giving you the wrong message, then you may need to try another method of installing the drivers. In this case go to the following link.
This will download a folder to your computer that contains a Word document with more detailed instructions on this topic and a few other files. Follow the instructions that are appropriate to your computer and it should operate as normal again.
http://www.applicad.com/downloads/R4Std Win8 Manual Install Driver.zip
Earlier Version That Works
This earlier version driver has also been proven to work with Windows 7 and Windows 8 operating systems.
http://www.applicad.com/downloads/Rockey4USB_5-0-5-1209_2007.zip
If you still have no luck getting your USB key to work, please contact AppliCad Support
---
back
---