Roof Wizard now on web based licensing
Roof Wizard now runs on web based licensing
You asked, we delivered!
With the recent release of the latest version of Roof Wizard software, we now have implemented web based licensing.
What's better about web based licensing?
Convenient and accessible license management
The new licensing model is a big deal if you are a power user of the Roof Wizard. It means you can now install the software conveniently from our online License Manager on the AppliCad website, onto any computer in the office, at home, or even onto a laptop in your truck.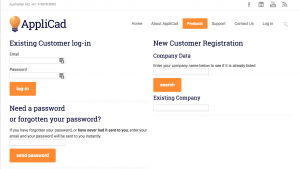 More users can share the same license (PC independent)
The software opens and checks the AppliCad web server for a current license, and if a license is available it runs.  The software then 'pings' the web server every 60 seconds and serves up as many licenses as are available.   Using this method of license delivery means that three licenses may easily accommodate the needs of 10 or 12 sales guys in one company.
Offline access
If a license is not available (because your buddy is busy doing estimates using the one and only license), then the software automatically reverts to ReadOnly mode.    In ReadOnly mode you can open jobs, review pricing and print client quotations and material order forms.   This is a standard feature available to all Roof Wizard users.
Centralised user access control
You can now manage your licenses directly at the AppliCad website; just log in to the AppliCad License Manager. You can see who is logged on and for how long.   You can download and install the latest updates and you can terminate users who no longer work for you.
Roof Wizard is a powerful business tool to help meet and exceed your profit targets
Combine web server licensing with the other extraordinary capabilities of AppliCad's Roof Wizard and your roofing business will go from strength to strength.   We designed the Roof Wizard software to help you make more profit – period, new paragraph!   If it isn't doing that for you, then we need to review your training needs. Use one of AppliCad's training options including our online training course at www.Academy.AppliCad.com.