We Are Excited to Release Roof Wizard v8.2

After months of rigorous testing, we have now released the much anticipated new version of Roof Wizard v8.2.  It is the most significant update of the Roof Wizard software in many years, and incorporates more than 12 pages of enhancements and new features, plus a bunch of small fixes and tweaks.
What's new in 8.2?
Check out this Roof Wizard 8.2 Release Document to see the main changes, enhancements and new functions.
The best news of all is that all the new functions are part of support arrangements for existing clients with a current IP license. This means that the Roof Wizard v8.2 upgrade gives you MORE value for the same money.
Here are some of the best bits
Web Licensing
We have provided Web Licensing of the Roof Wizard V8.2 software as standard.  All users with internet access will therefore be able to utilise as many licenses as they have available to their organisation, concurrently from any location.  This flexible licensing will work for all our users who have previously had to contact AppliCad to check licenses in or out when travelling or taking annual leave.
This feature makes the USB key redundant and allows greater accessibility of the software to all users in your organisation thus ensuring the right tools are provided to the right resources at the right time.   Further, you do not need to register the software on individual PC's as previously.   You can run the software on any PC where it is installed.   If no licenses are available the software will prompt to free a license or revert to ReadOnly mode.

New User Interface

Other very obvious changes include a completely revised user interface and simplified menu systems (great for new users), with totally integrated context sensitive help via the web and the Roof Wizard Instructor to provide tips and user guidance.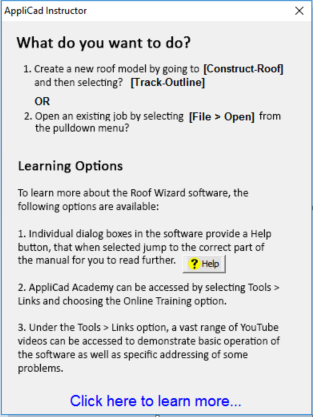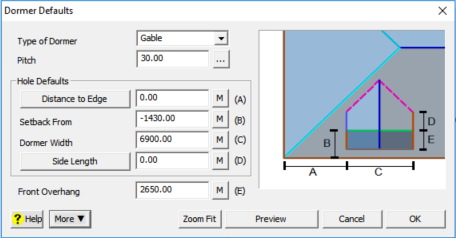 All your help files are now accessed via the web from within the software with dozens of help topics seamlessly linked between documents and to our online training course – https://www.academy.applicad.com
How can I get version 8.2?
For existing clients, it is very simple – open your web browser and go to the AppliCad FAQ website and follow the instructions.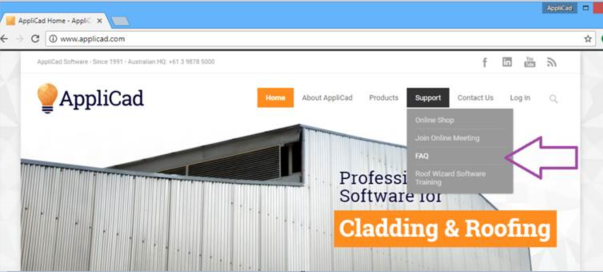 To log in and access the download, you will need your email address and your password.
If you do not have a current IP support agreement, what we call Investment Protection or IP, then you can renew it by going to our online shop – open 24/7.
https://www.applicad.com/online_store.asp
If you have any comments or questions, please feel free to drop us a line at any time to ray@applicad.com.